Discipleship Study: Sow What?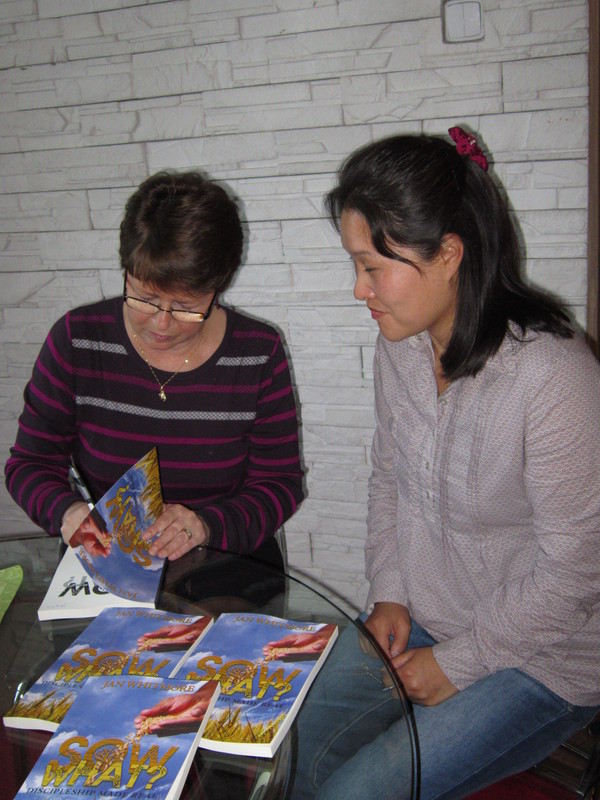 SOW WHAT? by Jan Whitmore
A DSCIPLESHIP BOOK FOR SMALL GROUP STUDY
Sow What? is a discipleship experience which will transform the hearts of those who engage with it. Based on the Parable of the Sower it is aimed at believers of all ages who desire spiritual growth and transformation. If God's seed (His Word) is purposeful and powerful, what prevents it transforming your life? What is holding you back? What does it mean to have hardness, rocks, thorns in the soil of our hearts? How can your heart develop good soil that is productive?
It is ideal for church house-groups, Bible study groups, and mission outreach. It is also perfect for friends who desire to get together for fellowship around God's Word. It will deepen and cement relationships.
Jan Whitmore, a life-time missionary and founder and director of Mission Encouragement Trust, is an active member of St Margaret's Church, Angmering, West Sussex.
SAMPLE CHAPTER
Interested in buying Sow What? but would like to see a sample chapter first? Please click here.
BOOK RECOMMENDATIONS
21 March 2016 TRANFORMED LIVES IN SOUTH AFRICA
I live in a quiet suburb in Hermanus, South Africa. Through serving our local homeless community, I met a precious lady, about my age (60ish). A low-key friendship developed between us over the past two years. She started sharing some personal issues and lately she asked if I would pray for her. I realised that a regular meeting time around the Word would certainly encourage her and be of great benefit, but I didn't feel free to just suggest it - so I prayed about it! I felt the Lord say that He was already busy and that I needed to wait! Exciting, isn't it!! I didn't have long to wait ...
About two months ago she invited me for a coffee date. We had hardly sat down when she popped the question: would I be willing to lead a Bible study with her and some friends? She was the surprised one when I immediately said "YES" with a broad smile! She was quite overcome when I told her how the Lord had already put the desire in my heart and that He had put the desire in her heart and so we were both sure that we were in the Lord's will with this venture!! Awesome, isn't it!!
As I prayed about it I know the Lord put Jan Whitmore's book "Sow what!" on my heart as the book to use for this Bible study meeting. I was so excited and especially when the books arrived the day before our first meeting. Isn't God just precious in all His ways! Such a testimony of His leading us! We have had the first three meetings already - what an incredible blessing!!
The Lord is using the material in Jan's book with such powerful effect! Many questions and issues come to light and can be spoken about around the topic of learning to be aware of and train our SPIRITUAL senses and to understand that it is the Word taking root in our hearts that will bring the change. The Lord has already brought so many things to the surface shedding new light and deeper understanding with life-changing effect on them! It's such a humbling exciting joy to watch the Lord at work through this book!
A significant key was the questions at the end of chapter one. Even though we all felt quite vulnerable about sharing on that level, it really challenged us to take a good hard look at where we really are spiritually and of course what we plan to do about it. The two ladies (we are only three) both declared that they've never experienced something like this before and that they are so very glad that we started the group and that they are looking forward to doing the rest of the book!!
Thank you, Jan, for your obedience in writing the book!! We are so very grateful for this incredibly powerful tool the Lord has placed in our hands to help us grow spiritually in such a practical way!! May the Lord bless you abundantly, Jan, and I KNOW for sure that anyone who reads this book and/or uses it as Jan intended for a life group, will be amazed at what God can and will do! The Holy Spirit does ALL the work - just be available for Him to work through you!! Much love and blessings in His Name. Maritha Esterhuizen Hermnus, South Africa
"Tired of superficial Bible study? Longing for transformational tools to dig deep into God's word? If so, this book is for you! Potentially it is spiritual dynamite! It poses some searching questions regarding our spiritual health but the author writes well and honestly, giving helpful illustrations from life to make her points. Read it, share it, buy a copy for a friend! Use it in a small group setting. You will not be disappointed!" - Gweno Hugh-Jones, WEC UK missionary
"Many times I've wished that I could sit at Jesus' feet and listen to His teaching like Mary of Bethany did so long ago. Reading this book came close to that. It is very personal. "As God's seed blossoms in our hearts, it governs, shapes and transforms our outward behaviour and conduct. This is the normal Christian life for all believers." (p 39). A book to reread and ponder. Highly recommended." - Marietjie Botha, local church member, LA, USA
LOVELY FRESH INSIGHTS
So significant, sincerely written, thoroughly researched and helpful....I especially appreciate the clarity of expression, which brings forth lovely fresh insights into the powerul truth of the parable of the Sower. Jan Whitmore's book inspires us to yield wholeheartedly to God so that He can bring the seed of His Word to full fruition in our lives. I would definitely recommend it to every child of God or study group as a must have!
- Amanda van Schalkwyk, South Africa
MY HEART WAS CHALLENGED IN MANY AREAS
Jan Whitmore's book ( Sow What ) is a truly honest and practical account of God's word. As a personal read I found my heart being challenged to areas of my life where worries and rocks had formed and taken root.
It is both uplifting and challenging in many areas. An in depth and clear instruction for Christians whether they are new or mature believers. Readers will discover a spiritual growth of how to live and be a disciple of Jesus. Highly recommended to anyone seeking more of God and transformation in their heart and in their Christian Faith. - Linda Harper, Southfields, London, UK
I EXPERIENCED A REVIVAL IN MY OWN HEART
What a delight to read Jan's new book, Sow What? Evie and I have come to know Jan well over the twenty-plus years of her ministry with Mission Encouragement Trust (MET), of which she is a co-founder. Her ministry has involved travelling thousands of miles through many nations to bring hope, peace, pastoral counsel, and encouragement to missionaries. She is an encourager, truly a "Barnabas", "a daughter of encouragement", even as Barnabas was "a son of encouragement".
Jan is a friend to many, including my wife, Evie, and me, and since 1995 has been a frequent participant in our Barnabas International conferences in the United States. As a diligent student of the Scriptures, she has shown her love and knowledge for the Word of God through faithful, passionate, and persistent teaching at seminars and retreats around the world. I have listened to her speak, and as I have read her discipleship materials I have discovered she carefully studies the Word. She spends much time in prayer, and only then does she speak and write.
God has used this book to stir my own heart. So often, while reading the book, I would say, "Listen to this, Evie. This is really good. Isn't that a good word?" I have read, studied and preached on the parable of the sower and have seen pastors encouraged because of it. They, like Jesus, are sowers of the seed. They too get various responses to their preaching, even as Jesus did. The same sower … the same seed … but results vary, depending on the soil. Jan has taken this and added rich personal insights into each of the four soil conditions and to what we must do to prepare good soil in our hearts to receive the seed.
As she wrote the book, she was richly moved and transformed. The Holy Spirit, who inspired the Scriptures, illumined the Word to her. To quote her, she experienced a "spiritual tsunami". I too was blessed; I experienced a revival in my own heart. I pray that you will also be open to rediscovering the truth of this parable – the sower, the seed, and the soil. The book is written to stir your heart, and I am sure you will be enriched through reading and applying it to your life and ministry. In addition to personal benefit, the book is practical and urges the user to share its message in small groups – "life groups" – to encourage Christian discipleship and growth. – Dr Lareau Lindquist, founder of Barnabas International, United States
IT REACHES DEEP WITHIN
I've so enjoyed your book. Easy to read and understand. It just flows. In 2000 I read "Landmarks" (an ignation journey) by Margaret Silf. It changed the way I read the Word. I still dip in.to it now. "Sow What?" I feel has that same effect. It reaches down to the very essence of who we are in Christ and how we can grow. It will bless many. - Margaret Green, St Marks Church, Gillingham, Kent, UK
SKYPING WITH THE AUTHOR
When our class Skyped with Jan Whitmore, author of Sow What? on Tuesday, I held up the wheat that was growing in my yellow pot and explained to her that I had scattered the wheat seed on the good soil and left it in the dark laundry room all week. When I looked the following week I was surprised that it was growing through no additional effort of my own. It was doing what God had designed the seed to do, grow in the good soil. Of course I've been watering the soil and giving it plenty of sunshine since. I bring my growing wheat to class every week along with the dried developed wheat with seed heads displayed in a vase. They serve as a visual reminder of the parable Jesus told of the Sower, the seed and the soil.
We are all learning a lot about God and ourselves through Jan's book, "Sow What?, Discipleship Made Real". We all love this study and we're growing in our faith and God is loosening the soil of our hearts, removing rocks and weeds and He is producing good fruit in us!
-

Sandy Carlson, Williams Bay, Wisconsin, USA
HIGHLY RECOMMENDED
Many times I've wished that I could sit at Jesus' feet and listen to His teaching like Mary of Bethany did so long ago. Reading this book came close to that. It is very personal. "As God's seed blossoms in our hearts, it governs, shapes and transforms our outward behavior and conduct. This is the normal Christian life for all believers." (p 39). A book to reread and ponder. Highly recommended. - Marietjie Botha, Los Angeles, USA
PRACTICAL STUDY BOOK FOR SMALL GROUPS
Jan Whitmore, a gifted Bible teacher and encourager, has produced a book that will enable participants to help each other deepen the level of their Christian commitment. This is a practical book intended to be used by small groups of four or five people agreeing to work together over an eleven-week period or longer, if they so decide. Based on the parable of the sower, it invites participants to reflect on the nature of God, the sower, and the seed, which is His Word. If we allow this seed to fully impact our lives, it will produce in us a Christ-like character. As the parable makes clear, the way in which biblical truth takes root in us depends on our individual responses. These responses, as both the parable and Jan Whitmore's book remind us, vary considerably from person to person and are likened to different kinds of soil.
The second part of the book challenges members of each study group to reflect on how fully, or otherwise, they are allowing Jesus' teaching to shape their individual lives. All the chapters provide some informative material to enable members to focus their thinking on the chosen issue and then end with a series of questions for group discussion, reflection, and prayer.
– Revd Dr Nigel Scotland, Tutor Trinity College, Bristol and honorary research fellow, The University of Gloucestershire, United Kingdom
THE DEPTH OF TEACHING IS REMARKABLE
I am reading "Sow what?" with great interest and I am applying what I read to my own life. I know I will read it over and over again and learn more each time I read it. The depth of teaching is remarkable. It is written in a very good format, quickly understood even for the most unlearned! It speaks so highly of the author's walk with the Lord, and I for one say thank you.
- Margie Macari Farmer's wife, Illinois, USA