Debriefing for Christian Workers
Testimony: Debriefing is Like Cleaning House
March 2015
"It is just over a week ago that we had the last meeting of our debriefing. What a special time it was to walk this path together, going to the cross, laying down the burden and leaving it there. In Israel, spring is a busy time as the Jewish mothers do the Pesach cleaning every year. No bread crumbs should be found. This Pesach cleaning gives expectation, and creates a new beginning.
I was raised in a family where my mom did spring cleaning every year. She was busy for six weeks cleaning the house, turning it upside down and inside out. My mom planned it carefully in order to finish a week before Good Friday. She always said: "Not only the house should be clean but also our hearts, to know and understand in a better way what the Lord did for us on the cross." I remember her that week, doing little things, polishing the silverware, and listening to a sermon on the radio. She made herself ready.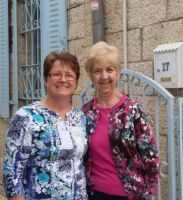 When I received an email from Mintie at the beginning of this year offering the debriefing, I knew it was for me. I cleaned my house and in March I was ready for the cleansing of my heart. At the last meeting, I felt a burden was taken off my shoulders. A wound had been opened up and cleansed in the presence of Jesus. It was presented to Him. It wasn't spectacular; it was done in gentle spirit, with Jesus waiting at the cross to receive my burden and treat my wound with His cure, His Word and by prayer.
The next day, I felt as if I was in rehab., a cast having been taken off after a long period. I asked myself, "Is this real, am I able to walk in newness of life, is a wound starting to be healed?" I heard the birds singing, my step was light.
I believe it is real, the Lord has done great things. I give thanks to the Lord. He used Mintie and Jan to be His vessel."
Jan Whitmore and Mintie Nel were formally trained as debriefers at Le Rucher, France - www.lerucher.org
A routine debriefing typically focuses on the personal journey of the debriefee. Using the Le Rucher debriefng model, "debriefing at the cross", space is made for the one seeking help to reflect on reactions to events of life. It is a model for debriefing that empowers the individual to tell their story in their own time and manner, freely sharing how they have been affected by past events - including triumphs, disappointments, conflicts and other changes and concerns. A structured debriefing provides opportunity to reach closure (where needed) and bring pressing issues into the presence of God in a safe, peaceful environment.
Mintie Nel is a trained Social Worker and pastoral carer. With more than 47 years of cross-cultural experience on the mission field, she excels in organising and hospitality and is equipped to actively listen, reflect back and warmly empathise with people. Jan Whitmore, who has more than 31 years of cross-cultural missions experience excels in teaching and training and the ministry of helps. As pastors to missionaries, they have served the international mission community through Mission Encouragement Trust, helping many rehabilitate from moments of crisis, stress and strain to healthy function.
Individually or together, they offer an excellent debriefing from a Christian, biblically-based worldview. Debriefing sessions woud be typically scheduled over a few days, Monday to Friday and invite participants to stay with them at their home. However, they also conduct debriefing by skype. Prayer ministry and Bible meditation are normally part of the debriefing process with the consent of those participating.
Who is this for?
This debriefing service is primarily offered to those in fulltime Christian ministry.
Workers on and off the field. On the field debriefing will typically be offered via Skype, but a field visit can be facilitated depending on location and availability.

Returning workers to the UK

Leaders

Couples / families
Making Disciples International is a faith mission. We gladly offer this ministry free of charge to mission personnel, however, a gift to our discipleship fund would always be appreciated. If called upon to travel to fulfil a debriefing it would be expected that travel expenses would be covered. It should be emphasised that debriefing is a listening and reflecting process. Jan Whitmore and Mintie Nel will offer prayer ministry but not counselling. If professional counselling is needed the debriefee would be referred.
Le Rucher Ministries is affiliated with the Association of Christian Counsellors, UK (ACC) Debriefing for field workers.