Ministry News Sept 2015
Posted on
Making Disciples International
Newsletter September 2015
God is our refuge and strength, a very present help in trouble (Psalm 46:1 NKJV).
What a beautiful Scripture! "Present help" means "a help that has been found to be reliable, or proven to be a reliable stronghold in the past, so that any future calamity is no reason to fear". As we put our trust in the Lord for each step or season in our lives, we discover He is utterly reliable. He leads, provides and sometimes carries us through — even though we may not be conscious of Him doing so. He builds a strong faith deposit in us, a full memory bank of His loving-kindness, which knows no fear, whatever the future holds.
As we prepare for the ministry season ahead the Lord said, "Jan, Mintie, represent Me – be My present help". Be strong in faith, helping others attain faith; be reliable and be faithful as I send you alongside those I love". We pray we may be exactly that as we visit two mission workers at the WEC HQ, 26-28 September, and workers in Israel, 12 October – 10 November 2015.
APPOINTMENTS IN GERMANY
In August, the Holy Spirit prompted us to visit dear friends in north Germany. It meant a quick turnaround of just 3/4 weeks. After organising travel for the motorhome—two campsites on route in Belgium and Germany, packing the motorhome van with gifts, we headed out on God's adventure. The first embrace, with many tears flowing, confirmed the timeliness of the weeklong visit. Day by day, He imparted new strength to those who felt isolated and low. Olga said, "I've seen how busy you've been over the years, visiting with many people, and I've wondered if God knows where I am". God "knew her thoughts from afar" (Psalm 139) and called on us to go! Isn't it special to know that God hears the cries of our hearts and sends help – He is a "present help", utilising His willing and available children.
However, Germany had much more to it than we could see! God had a yet more expansive plan. "Out of the blue" a German missionary, serving in South Africa, contacted us on our German campsite. She came to several of the retreats we led for single missionaries, 1992 – 2014. "Can I come and see you? I'm home on leave and am close by where you are staying". The "unplanned" visit took place in our motorhome on the campsite. What a joy!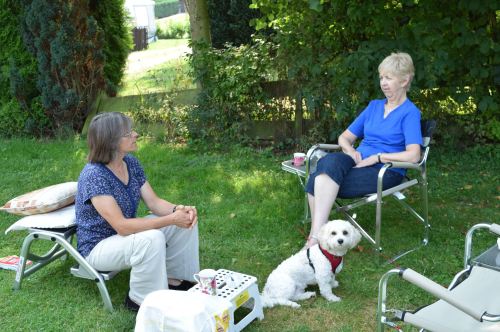 It is usual for missionaries to want time to share their burdens and needs, but this missionary wanted to come and share what God had been doing in her life as a cause of the ministry she'd received at the retreats for single missionaries. For 2 hours without a breath, she excitedly recounted the healing, transformation and spiritual growth. She wanted to say, "thank you". God touched us very deeply. Not many return to say thank you.
Thank you so much for your prayers for the journey. We avoided five accidents by God's grace —unforeseen delays meant we were free of trouble. In addition, because we arrived at the channel tunnel (Le Shuttle) a day earlier than booked, we met no trouble at the Calais port. The following day, the day of our original booking, all sorts of trouble broke out among the migrants trying to gain access to the UK. God takes care of us all.
PASTORAL VISITS UK
This month we meet with two mission workers at the WEC HQ west of London, 26 – 28 September 2015. Lee Choo Chun works in Asia with Healthcare Christian Fellowship. Gweno Hugh-Jones works with WEC UK. Lee Choo is participating in the HCF conference in Wales. She attended our final MET retreat, a training retreat, in the Czech Rep in May 2013. It marked the end of MET. She was one of 30 to whom we "passed on the baton" of our ministry (front left of the picture). How special to have the opportunity to meet together again, to hear how God is leading, to encourage and pray with her. Gweno, who also knows Lee Choo from the same retreat, is hosting the reunion.
Pray for the peace of Jerusalem: "May they prosper who love you.
Peace be within your walls, prosperity within your palaces."
Because of the house of the LORD our God I will seek your good.
Psalm122: 6-9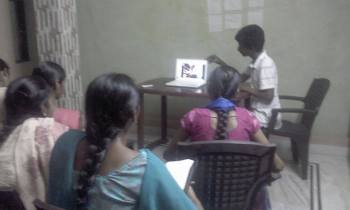 DISCIPLESHIP T
RAINING, INDIA
This month, Jan taught at the YWAM DTS (Discipleship Training School) in India, via Skype. She is in regular contact with Chandu, to encourage the leader of the school. What a unique experience and all without an airfare!
JERUSALEM, ISRAEL
From 12 October – 10 November 20
15, we are following up on our work among the Christian workers in Jerusalem and in the Galilee. We have an apartment in the German Colony, Jerusalem, which will be the hub of fellowship, debriefing, and one on one sharing and prayer. Ahead of time, we have asked workers to express their needs so that we can gather goods to bless each one. We are booking in two extra suitcases to take personal gifts with us. Already, English tea, Redbush tea, marmite, skin creams, soap, vitamins, cheddar cheese, and books have been requested. Can you help?
HOW YOU CAN HELP
We need finances to buy these gifts. Would you give generously into the "manna pot" to make the purchases possible?
We want to carry an offering to Jerusalem for the work of "Helping Hands". They feed the homeless, Jew and Arab, on the streets of Jerusalem. This is a wonderful way to fulfil the command to "comfort Israel".
PRAY FOR US
Clean hands and a pure heart to be prepared vessels of the Lord
To be led by the Holy Spirit to God's appointments
Good health, strength to endure
A generous offering for God's servants
DETAILS OF GIVING
Internet transfers, PayPal and other methods of giving are possible in the UK, USA and South Africa
Thank you so much to all who give regularly toward the ministry. Thank you too to those who have already given toward the Israel ministry. God bless you all.
In Jesus' love, Jan & Mintie