A Postcard from Jerusalem No.1
Posted on
8 March 2015
Postcard from Jerusalem (1)
We safely arrived in Jerusalem at 6am Monday morning (2nd March). What a thrill to make our way up to the city of God – "come let us go up to the mountain of the Lord". People don't realise how high up Jerusalem is. Sadly, there was immediate upheaval as our designated apartment had to be changed due to a building site springing up next door – pile driving, water everywhere, dust and immense noise!! It is Jerusalem. Our landlady chose to upgrade us!! Yes, once again the Lord was busy attending to our needs. Our first fellowship meeting happened on Tuesday eve. We had rich, rich fellowship. God is certainly with us!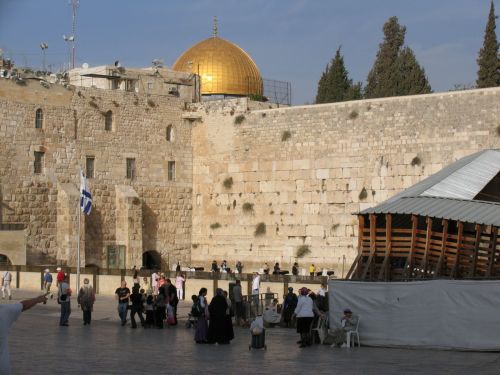 Here is an interesting story. On Wednesday morning we prayed together for our day – a simple prayer, "Lord, lead us by Your Holy Spirit." The debriefing appointment went very well and after lunch we said, "let's take a walk in the direction of the Garden Tomb and catch a taxi for the part when Mintie's legs would not go farther". Outside the King David hotel Mintie realised that she now needed a ride. A taxi was just there. As we got inside Mintie felt the Holy Spirit touch her powerfully. Immediately, the driver said, "Are you believers in Yeshua (Jesus)? I am a Jewish believer (Messianic)!" Thoroughly taken aback at his open and forthright testimony, Jan said, "Yes, we are Christians – we are believers in Yeshua!" Exuberant praise came out of his mouth. He had sat for four hours praying for someone to need his taxi – "Yeshua send someone, I need work" he prayed, and along we came. The taxi ride led to a time of lively fellowship and mutual prayer. He could hardly keep his feet on the ground as he prayed for us in Hebrew – he was full of the Holy Spirit.
In 2000 Yeshua miraculously appeared to him in his room and revealed to him that He was the Jewish Messiah. For two more nights Yeshua appeared again telling him about Himself. He had no previous knowledge of anyone called Yeshua. Dramatically, he surrendered his life to the Lord, and is now on fire. His family disowned him but in another extraordinary turn of events his wife and children also received Yeshua. What an extraordinary day. We have prayed the same prayer each morning.
On Thursday, the morning debriefing was mutually encouraging. To see the spiritual growth of someone you have known for some years is a privilege. After lunch we decided to walk in our area –the German Colony, before our next debriefing appointment in the evening. Just a few metres along the road we were drawn to a sign, Alliance Church International cemetery. As we entered the beautiful, peaceful haven tucked away amidst the hustle and bustle and dust of Emek Refaim, a Jewish man approached. Mintie stared into his drawn face. "Are you Meir?" He smiled broadly saying, "Mintie is that you? God has sent you, God has sent you." In the 1980's when Mintie was bursar in the Garden Tomb, Jerusalem, Meir married one of her friends, a Dutch volunteer. Catching up was painful as he shared his broken life. The reunion was full of joy and such a comfort to him. He is working in the cemetery as a volunteer, care-taking. Many Jewish people wander into the place wondering what it is. He is able to tell them about Yeshua, because all who are buried are Christian workers sent to Israel by the Lord. He tells their stories of faith and their love for Israel – so many who have given their lives for Israel are buried there in the soil of the nation they loved. He also showed us the graves of Derek and Ruth Prince, as well as Peter Wells who was Mintie's boss in the Garden Tomb. It was a humbling and moving experience.
On Friday afternoon a hush descended on the city – it was the beginning of the Sabbath – the stillness in stark contrast to the hubbub, noise, push and shove is something to experience. The city came to an absolute standstill until sundown last night. On Sabbath eve Jewish families gather around the family table to break bread, giving thanks for His creation and the Exodus of the Hebrews from slavery in Egypt, looking forward to a future Messianic age. They refrain from work and engage in restful activities to honour the day. They enter into Sabbath rest and we joined them. On Friday evening we shared our Shabbat table with a dear friend who has worked in this city for many years. It was a very special time. Yesterday, we walked the southern ramparts of the Old City of Jerusalem, praying for all its inhabitants. So far very good and we are rejoicing in the Lord thanking Him for His marvellous and tender care.