I didn't see THAT coming!
Posted on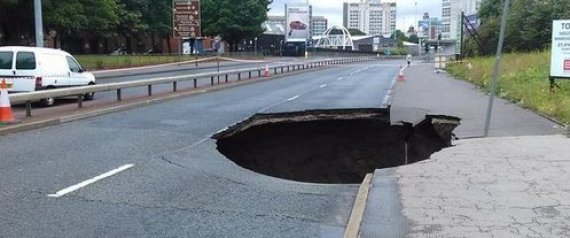 Gordey Eframov was travelling home in his Lada Niva in south eastern Ukraine when he suddenly found the ground vanishing underneath him. He said, "Because of the rain, traffic was going slowly and then when the car in front of me stopped I put on the brakes and slowed down. Then I suddenly got a sinking feeling and before I knew it, I was disappearing into the road. The car tipped onto its side and muddy waters started to flood in through the air vents and door." Police said the broken drain had been leaking rainwater into the soil underneath the road, washing away the foundations and causing it to collapse when the car paused above. Police spokesperson said, "It was an accident waiting to happen. As long as the cars were moving fast over the top, it bore the weight, but once a motorist stopped, it was too much and it gave way.
"What happened there? The ground just gave way under my feet."
"I didn't see that coming."
On the one-hand, Gordey Eframov did not see the sinkhole coming, yet, on the other-hand the choice "not to maintain" the road meant that disaster was simply waiting to happen. The ground opened up, not primarily because of the traffic or external circumstances, but because of the lack of investment in the sub-terrain. The government spent its money elsewhere. Scientists say sinkholes occur when underground resources gradually dry up, causing the surface to lose its underlying support. Everything caves in – forming an ugly pit.
What a prophetic picture for our time. It calls to mind God's warning in the book of Jeremiah:
'For My people have committed two evils: They have forsaken Me, the fountain of living waters, and hewn themselves cisterns — broken cisterns that can hold no water" (Jeremiah 2:13 NKJV).
God in His great love offers absolutely everything – "everything for life and godliness through the knowledge of Him" (2 Peter 1:3). Amazing love, acceptance, fellowship, friendship, provision, protection, strength, power, wisdom, understanding, ability, nourishment and much more – but we, His people, often prefer to go it alone, by our own ability and resources, with so little prayer-reference to the Lord. Providing for ourselves, we "do life" our way. Sime times we even boast, "I'm independent and that's the way I want it!" It ends in disaster – sinkholes are being prepared, not by God, but by our own choices. God's heart weeps for the adultery of His people.
The Ukraine chose not to invest in vital maintenance to infrastructure, and for a long time they got away with it. The road looked "fit for purpose" and held up. However, one day it collapsed and neglect was exposed.
What lies in the sub-terrain of our Christian hearts? Paul says,
"Let each one take heed how he builds. For no other foundation can anyone lay than that which is laid, which is Jesus Christ. Now if anyone builds on this foundation with gold, silver, precious stones, wood, hay, straw, each one's work will become clear; for the Day will declare it, because it will be revealed by fire; and the fire will test each one's work, of what sort it is. If anyone's work which he has built on it endures, he will receive a reward. If anyone's work is burned, he will suffer loss; but he himself will be saved, yet so as through fire (1 Corinthians 3:9-15 NKJV).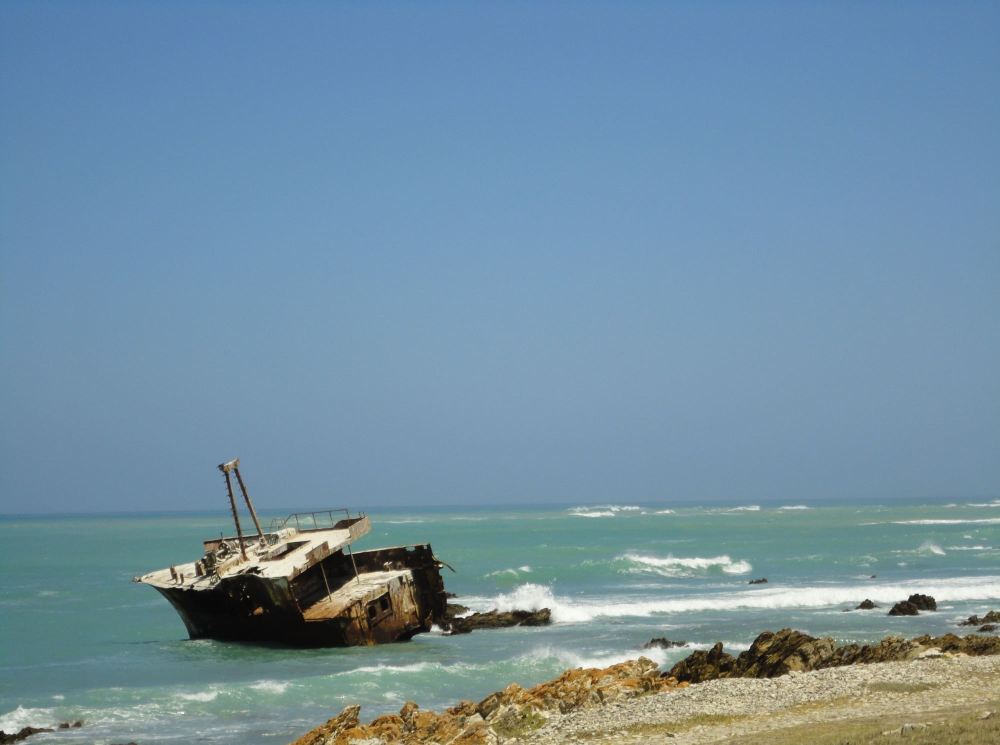 Is there recovery from sinkholes? Yes, there is a recovery fully provided for by the shed blood of Jesus on the cross. What love! When disaster strikes, He waits for the invitation to step in to rescue, recover and rebuild our lives, from the inside out. Attentively, He brings us to healing repentance, which marks the beginning of a strong and purposeful recovery. God never abandons, ridicules or laughs at the demise of His people – He is always the Rescuer, the Redeemer, the Restorer.
Acknowledge brokenness. God will come swiftly to help.
Sinkhole-prayers tend to be quite short and desperate: "Help!" or "O God!"
2. Acknowledge, without reserve and defence, how and when you have forsaken God.
Diminishing spiritual vibrancy always leads to spiritual hardening. Truth is we have placed family, friends, pursuits and things ahead of a love-relationship with Jesus. We may kick and scream saying, "I've not forsaken God. It was not my fault. I meant no harm. Nobody else was hurt." However, do not be hasty. What really lies in our hearts is often well hidden, even from us. More often than not, we are far too busy with other things to notice spiritual erosion—the gradual spiritual cooling and seemingly harmless compromise don't even hit a conscious level.
Take time to assess the damage, letting God and Godly friends provide the insight, wisdom and counsel needed to make the good recovery.
In moving on too quickly, we miss God's voice in the crisis. What is He saying? What is His counsel? Diarise time alone with the Lord. Step away from the family, friends and the crowds. Step away from responsibility and enter your "closet", giving Him time to speak personally. Some other priorities will need to shift to honour Him in this process!
4. Be prepared to allow God to dismantle and remove the broken cisterns before rebuilding.
Come to the place where confession of sin is specific, not merely general. Repentance is deep when we feel the weight and contamination of our sin! First, we have sinned against God – and that is serious. True repentance is soaked in tears, not smiles. What was the cause of the sinkhole? The most common is sexual sin, selfishness, self-sufficiency, self-reliance and self-opinion. God desires dependence upon Him, not independence from Him.
In rebuilding, He will provide a new "cistern", or to use another Biblical analogy, "wineskin" (Luke 5: 38) that can store and preserve the pure and living water of God – the Holy Spirit.
5. Set new priorities and choose your friends carefully.
Start over, making God top priority. Set a guard on time with Him. Learn to be diligent in seeking the Lord, not casual (Hebrews 11:6). Develop intimacy in worship and prayer (Psalm 95: 6-11). Study the Word of God (Colossians 3:16), letting it shape and govern life. Let His voice be your guiding voice (Psalm 19: 4-11). Carefully choose Christian friends who are both passionate for God and love you enough to speak truth.
"I waited patiently for the LORD; and He inclined to me, and heard my cry. He also brought me up out of a horrible pit, out of the miry clay and set my feet upon a rock, and established my steps. He has put a new song in my mouth — praise to our God; many will see it and fear, and will trust in the LORD" (Psalm 40:1-3 NKJV).
Jan Whitmore
18 September 2015