The Glorious Weaver at Work
Posted on
Does life move in circles or does it follow an individual linear path? Depending on what nationality we may speak to, there will be different answers. However, whatever the culture, God is the Eternal Weaver of life. Given permission, He powerfully and precisely intertwines the cords of His life with the threads of ours. He weaves shapes and creates His gracious character and will in us. He works in us individually, but life does not find its true meaning in isolation. Here's an awesome truth: When my whole life was placed fully into His hands, He had the means on earth of rewarding the faith of another who was seeking His help.
In the 1990's, I travelled in a campervan with my colleague and friend, Mintie Nel, to pastorally visit missionaries on the mission field. We were – and still are – God's encouragers. Just as Paul journeyed, dispensing encouragement and stirring the saints to faith in God and His Word, so we travelled in our motorhome coming alongside many serving missionaries in Europe. The adventure kindled spiritual fire in our bones.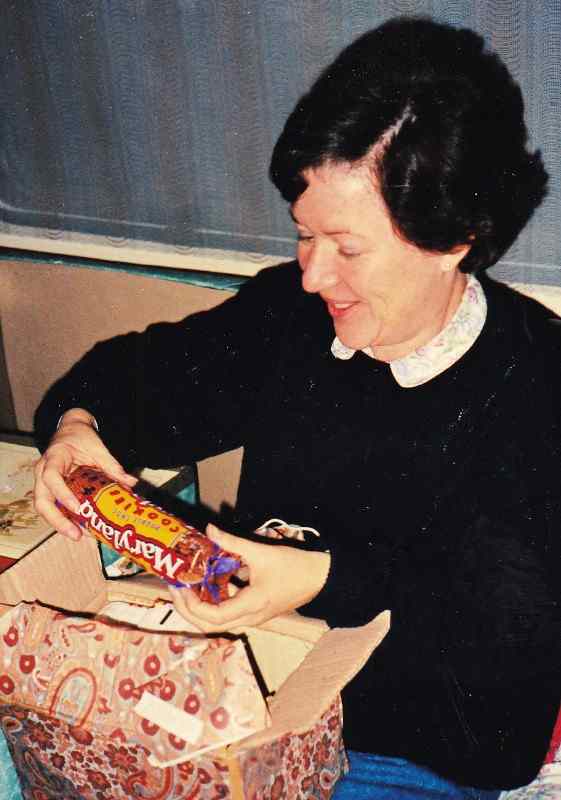 In July 1996, we pulled up our packed motorhome alongside the home of a single missionary in Holland. Jenny Lowen, a South African, worked at the YWAM Base in Heidebeek. She was a joy to visit and any encouragement shared was refreshingly mutual. In usual meticulous fashion, we had prepared a beautiful gift-box full of fragrant and sweet delights to convey God's personal and unconditional love, and His appreciation of her obedience to His bidding. It was a short but effective visit. From Holland, we moved on into Eastern Europe, remaining in email contact with Jenny, tracing her missionary movements with love and care. Jenny is an itinerant Discipleship Training School teacher in YWAM. Whilst she was based in Holland, Switzerland or the UK, in reality God trekked her all over the world. Our paths have touched for brief moments during the last 20 years.
The last few years have vigorously exercised Mintie and me. In 2007, when I married the most darling of men – Des Whitmore, our home situation dramatically changed. Having shared a home with Mintie for 15 years, Des was sent to gloriously "upset the apple-cart". God was shaking our nest and as difficult as it was, our living arrangements had to change. Des insisted the ministry progressed and that Mintie lived with us, so he built a beautiful self-contained annexe to our house in Ferring - thoughtfully accommodating Mintie's disability. He would live in Mintie's house and Mintie would live next door in his! However, after Des passed away in 2011, we found ourselves sitting in a house that was far more than we personally needed, or indeed could naturally afford. Should we move? Should we downsize? It was a matter of prayer. Only God could decide.
Last year (2014) news reached our ears that Jenny, now based at YWAM, Holmsted Manor, UK, had suffered terrible flooding in her basement apartment. Treasured and sentimentally valuable items belonging to her family (now with the Lord) ruined by sewage. She was homeless. Disturbed by the details of the flood and Jenny's worsening health, we sent word that we were praying for her. Many friends gathered to her aid and God opened up comfortable but temporary accommodation.
Some weeks later, during lunch with a mutual friend of Jenny, once again the extent of her plight reached the ears of Mintie and I. I asked, "What exactly is Jenny praying for? Does she want to move away from Holmsted Manor? Is it time to leave community living?" Our friend answered, "Jenny is actively looking in the vicinity of the YWAM base for an annexe attached to a house – it is most probably all she can afford".
The words quickened to our spirits and had penetration. Mintie and I kicked one another under the table. Were we the instrument of God to bring blessing and shelter? Two weeks of prayer and conversation led us to offer Jenny the annexe to our home. Mintie would move back into her old bedroom in the main house and Jenny would live in the annexe. She was overwhelmed with joy at the offer and in March 2015 she became our lodger / neighbour.
In April 2015, whilst sorting through her many unpacked boxes, Jenny found some old personal journals. Randomly opening one she read the following:
Taken from Jenny Lowen's journal:
25 August 1996: 'I've had 2 dreams since Jan and Mintie came at the end of July…. (1996)
Dream 1) "I dreamt that J & M moved into a BIG space and proceeded to make rooms of it and furnish it. They were very organised. Towards the end of the dream, I realised that I was moving into the room next door.
Dream 2) "I moved into a big space and needed to start furnishing it – I could do it sparsely but people gave me things to put into it. To me, this means my home is being found and being furnished!"
Then I received a word from the Lord on 23rd January 1997
"I am assured I'm going in God's will and He's prepared a place for me. A warm lovely little HOME, roses, flowers, a little dog; preparing a hospitable place for those who're tired; all my needs provided".
Jenny may have long forgotten those words but our covenant keeping God had not. We had no idea they existed.
In 1996, when God spoke to Jenny in the dreams, Mintie and I owned a motorhome and lived in a small mortgaged house in Worthing, UK. In 2002, God clearly instructed us "to go bigger". We sensed He had plans for a home to bless missionaries. We didn't have the money but we stepped out in faith, sowing all that we had into His will. God provided us with our present "bigger" house – mortgage free. Hallelujah! It was a house with modest grounds and good potential. In 2007, my surprise from God arrived - Des came along and extended it ostensibly for Mintie. Then, compassionately, upon hearing God speak to her heart, Mintie moved back into her old bedroom in the main house and made room for Jenny to make a new home in the Annexe. All this God had revealed in a dream to Jenny long before any of it was substance. But what about the prophesied "little dog"?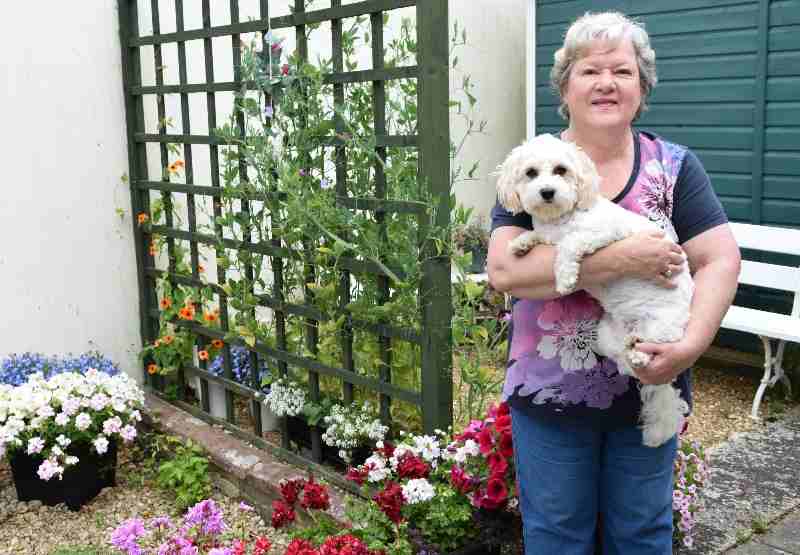 Two years ago (2013), after years of patiently waiting, Mintie felt it was the right time to choose a little puppy to become part of the family – she called her Tikva, which is Hebrew for "hope". Did God see Tikva when He spoke in a dream to Jenny in 1997? Of course, He did, and arranged for Tikva to be here for Jenny's arrival in 2015. He knows the end from the beginning. He weaves all the details together. He knows and always acts for our blessing and good. Never doubt that the Master Weaver is at work. It is only by faith we recognise His handiwork!
Psalm 139:1-6
"O LORD, You have searched me and known me. You know my sitting down and my rising up; You understand my thought afar off. You comprehend my path and my lying down, and are acquainted with all my ways. For there is not a word on my tongue, but behold, O LORD, You know it altogether. You have hedged me behind and before, and laid Your hand upon me. Such knowledge is too wonderful for me; it is high, I cannot attain it." NKJV